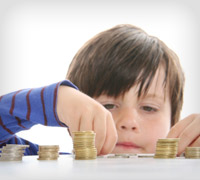 The kids are getting to be that age. They're starting to ask personal questions, and you're pretty sure your oldest thinks you're just making stuff up when you answer him. They need to know the truth. It's time to have "the talk"—not about drinking, drugs or even the birds and the bees. We're talking about dollars and cents.
According to a recent T. Rowe Price survey, most parents would rather talk to their kids about smoking, drugs or bullying instead of their own family finances. But, the truth is, the kids would rather hear about saving and how to make more money.
Nearly a third of parents admitted they avoid talking to their kids about family money issues. They were even dishonest with their kids about how worried they are about money.
But the kids know what's really going on. According to the survey, the kids were aware that their parents avoided talking about money with them, and 42% know their parents don't always agree on money matters.
In spite of all that, 92% of the kids believed their parents were doing a good job teaching them about money. Ouch. If you think you need to step up your efforts to earn that kind of faith from your kids, here are a few ways to get started:
Baby Steps
There's no need to schedule a weeklong summit where you discuss your financial history, current budget and account balances. Start by simply answering your kids' money questions. Get a feel for what they already know and what they need more information about. Once they realize you're open to these discussions, they'll be more comfortable coming to you.
Be Honest
According to the survey, parents' biggest financial regrets include not saving enough and going into debt. Instead of hiding your mistakes or covering up when money is tight, tell your kids the truth, in age-appropriate ways. They'll appreciate your honesty and learn valuable lessons about the realities of money.
Learn Together
Eventually, you'll touch on topics you may not understand completely yourself. Only 16% of parents in the survey had talked with their kids about investing, for example. If you don't know the answer, own up to it, and discover the answer together.
Set a Family Goal
Parents who are fired up about getting out of debt are pretty good at this. Their kids quickly become familiar with the word "budget" and the idea that if it's not in the budget, it's off-limits. This translates to other family goals as well, like saving for a car or college. Explain that you're choosing to save the money you would have spent on a weeklong vacation this year in order to reach your goal. This is also a great time to discuss why it's better to pay cash for things instead of going into debt.
Talk Values, Not Figures
Most parents don't want to reveal their income and specifics of their budgets to their kids. The good thing is, most kids don't want to know about that stuff. They want to learn about concepts like saving and earning money. You can give them a real-world example of how those concepts work, and they can take those values with them as they become responsible for their own money.