Top 10 Most Ridiculous Payments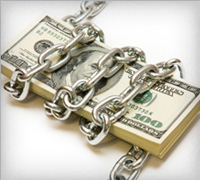 Having a bunch of payments is bad enough (yet another reason to ditch them with the debt snowball).
But when you discover how wealthy you'd be if you invested that student loan or car payment instead of sending it to the bank, it can just about make you sick. Some members of My Total Money Makeover know what that feeling is like as well as the tough road to be free from it.
We asked our members to list their highest ever monthly payment that wasn't on the house. We then calculated what that would be worth if invested for 30 years at 12% interest.
Here are the top 10:
My student loans were originally about $840. (invested for 30 years equals $2,965,128) —Julie in Texas
We were paying $850 to a debt solutions company, a combination of five credit cards. (invested for 30 years equals $3,000,426) —Doug in Texas
Mine is the $925 that is taken out every month for my STUPID 401(k) loan! (invested for 30 years equals $3,265,170) —Kathy in California
It was $1,020 for 12 different loan payments a month. I sometimes had to renew a loan just to make a payment on one that was due. (invested for 30 years equals $3,600,511) —Denise in South Carolina
Get ready … $1,100 to Chase on an account that had close to $40,000 on it. Most of that $1,100 went to interest. (invested for 30 years equals $3,882,904) —Nancy in Colorado
We paid $1,150 every single month for a leased BMW convertible. (invested for 30 years equals $4,059,402) —Christina in Arizona
Between the student loan payments for my husband and me, the total is $1,215. And they aren't getting killed anytime soon either. (invested for 30 years equals $4,288,845) —Erika in Georgia
In 1998, we had $1,385 per month to cash flow one year of our oldest son's college for what the scholarships didn't cover. That was a painful year. (invested for 30 years equals $4,888,930) —John and Dee in New Jersey
My student loan total just went up to $1,432 and I'm only about to begin working on the principal in July, if all goes well. (invested for 30 years equals $5,054,836) —Amy in Massachusetts
Between the $965 a month for a 2000 Cadillac Escalade and then $550 for insurance, I was paying $1,515. (invested for 30 years equals $5,347,819)—Aaron in Texas
Other memorable monthly payments included $490 for a truck that was a third of the person's take-home pay, a $445 student loan payment for a person who graduated and took a $24,000-a-year job, and someone who cash-flowed $834 a month for private school, only to take a job as a microbiologist that paid $12.64 an hour!
When you get rid of your payments and get a hold of your money, you put yourself on the path to unbelievable prosperity. Don't let that get away from you.