How to Hire a Financial Advisor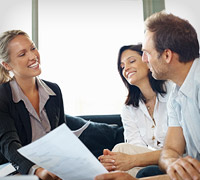 If you've heard it once, you've heard it a thousand times: You need a will. You need life, health and car insurance. You need to invest for retirement and wealth building. All of that is absolutely true.
What that means is, at some point, you will need a financial advisor—someone with the heart of a teacher who can explain complex issues in a way you can understand. Finding a good financial pro may seem intimidating, but it's not that difficult. You just need to remember a few things.
Manage your own money.
Surround yourself with a team of people smarter than you are about money stuff, but you still make the decisions. If a financial advisor wants you to do something simply because they said so, then find a new advisor. You aren't a hiring a daddy; you are gathering counsel. It's your responsibility to manage your money. Some celebrities and pro athletes lose their entire fortunes because they give up the responsibility of managing their own money. The money manager who loses your hard-earned investments won't live with the regret and pain, but you will.
Hire someone with the heart of a teacher.
When selecting your support team, it's vital to hire only members who have the heart of a teacher, not the heart of a salesman or the heart of an "expert." The salesman is always chasing a commission and thinking short term, and the "expert" can't help but be condescending. An advisor with the heart of a teacher will explain every detail to you until you get it—no matter how long it takes. And you have to get it so that you can make informed decisions.
Know if they are on commission.
When evaluating a potential financial advisor, make sure you know how they will profit from their advice. In other words, are they on a commission? If your insurance pro is coming up with more great insurance ideas every week, then you may have a problem. That is not to say everyone who makes a commission off you is out to get you. There are plenty of commission-only financial people who have extreme levels of integrity. Just be aware of possible conflicts of interest.
If it doesn't feel right, walk away.
If something doesn't feel right about a potential advisor, then keep looking. Hiring advisors can be difficult. Dave has a network of Endorsed Local Providers that he recommends, and that's a great place to start. Bottom line: You have to feel good about the relationship. Only work with someone you can trust.
So what type of advisors does Dave recommend? A good estate-planning attorney, a CPA or tax expert, an insurance pro, an investment pro, and a good realtor are a few of the essential team members you should gather around you. Remember these people need to be team members, not sole captains of their team.
Keep all of this in mind when you are hunting for the right financial advisor, and you'll put together a great team that will help you win with money.